Looking to get out of the house or explore Libertyville's history virtually? Check out the Libertyville-Mundelein Historical Society's online, self-guided tour "Libertyville's Historic Milwaukee Avenue" released in September.
The tour begins in Cook Park, moves north along the west side of Milwaukee Avenue to the American Legion Hall, then crosses the street to explore the east side of the road south to Maple Avenue. The tour concludes with a walk north back to Cook Park. In all, the history of forty buildings is included along with historical photographs of each structure.
The tour can be taken all at once or in bits and pieces walking downtown or from the comfort of your couch. Access the tour online at https://theclio.com/tour/1501 or through the Clio – Your Guide to History app available through the Apple App Store and Google Play Store.
As a teaser, here is a sample entry researched and written by a member of the Libertyville-Mundelein Historical Society walking tour project team:
521 N. Milwaukee Avenue – Isaac Heath building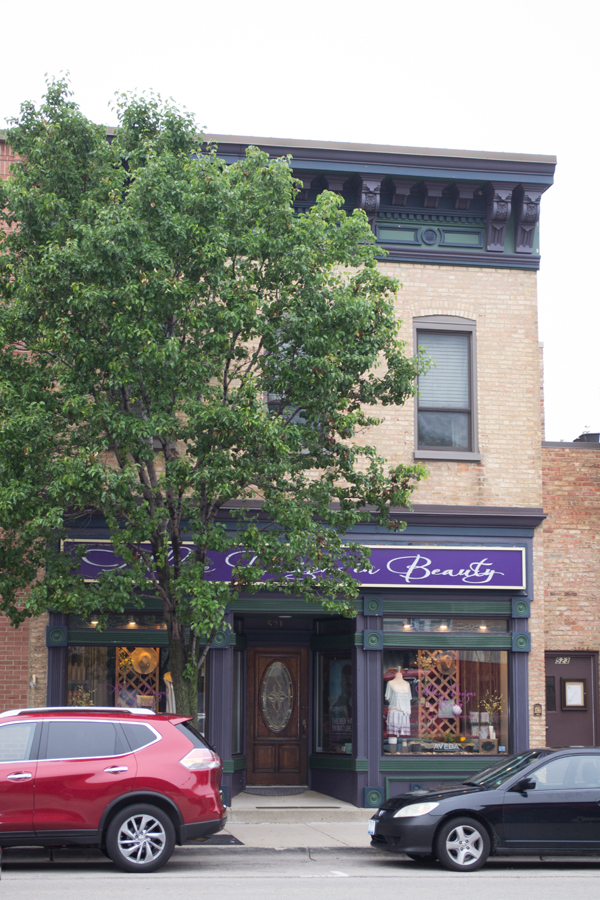 Isaac Heath (1832-1898) was born in Vermont and arrived in Lake County in 1853, finding work as a carpenter and joiner. He and his wife Martha Merrill had two sons, Omar and Warren, who joined him in the furniture and undertaking business he established c. 1880. (These two roles occasionally overlapped at the time due to the similarity of the materials involved and methods of construction.)
In 1883, Isaac Heath erected this building, which included a "fine store room contain[ing] a splendid stock of furniture, hardware, paints, oils, glass, upholstery goods and undertakers' supplies." For two intervals until Heath Co. moved in 1903, the building also housed the Libertyville post office, as both Isaac Heath (1876-1885) and his son Warren (1897-1908) were appointed as Libertyville postmaster.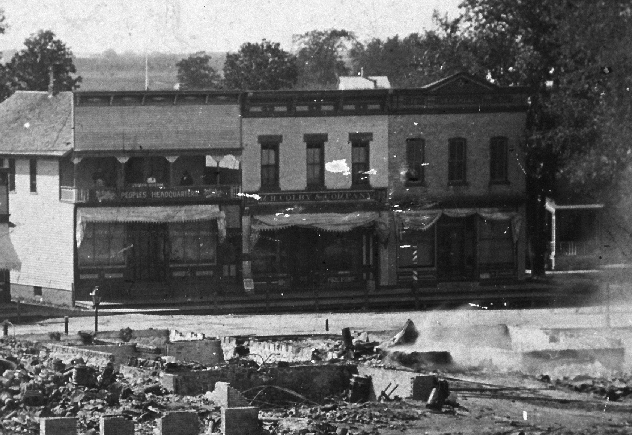 The Heaths lived just to the north at 527 N. Milwaukee, in a gabled white frame house, set back from the road. Libertyville's downtown boomed around this residence, which, though surrounded by businesses, was not torn down until the late 1930s. In 1940 it was replaced with a new commercial building that housed the A&P Supermarket and Langworthy's department store.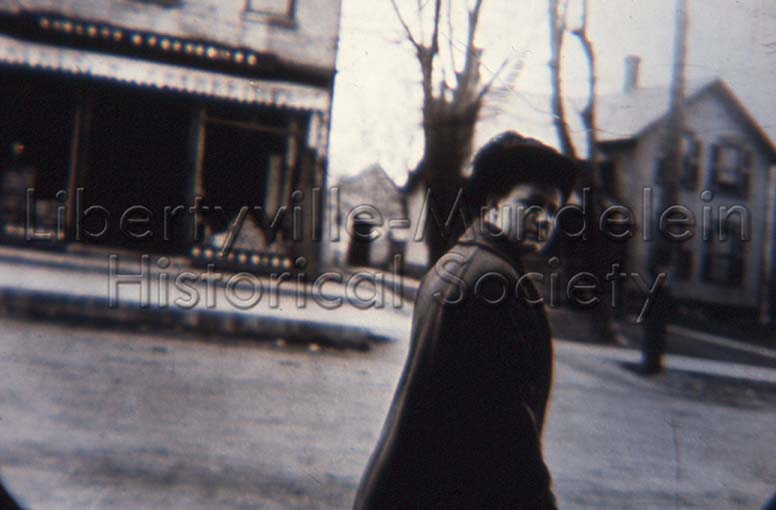 Isaac Heath was a member of Libertyville Masonic Lodge #492, which had borne a peripatetic existence since it was chartered in 1866, renting rooms in various downtown buildings. Heath rented the hall on the second floor of his new building (which, of course, was topped by a prominent Masonic emblem) to the Lodge for $75 per year. (This rent was increased to $100 per year by Warren Heath in 1901, after a banquet hosted by the Order of the Eastern Star left a "sizable mess.") Though Lodge #492 periodically sought a home of its own, this did not happen until 1932.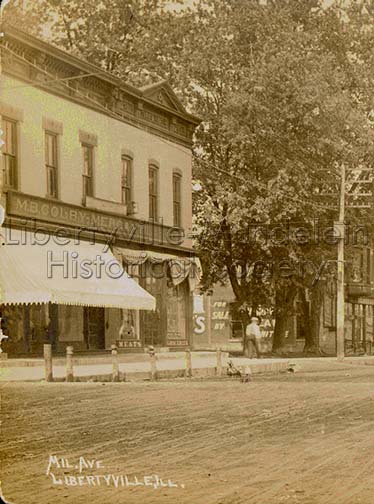 Around 1903, Warren Heath moved the business to a new building down the street, and the neighbors to the south at 519 N. Milwaukee Ave., M. B. Colby & Son Dry Goods, annexed this storefront to double their square footage. The dry goods firm had been founded in 1882 as Parkhurst and Dymond. Mason Bill Colby's sister, Flora, had married into the Dymond family, forging the connection. M.B. Colby (1849-1913) had recently succeeded to sole proprietorship.
About 1909, the firm of Corlett & Fredericks purchased the grocery and meat market portion of M.B. Colby's business and ran it out of the storefront at 521 N. Milwaukee Avenue. (Colby continued to sell clothing for customers of all ages in the 519 N. Milwaukee Ave. location.) In 1917, Earl Corlett bought out his partner Charles A. Fredericks' share and the business continued as the Corlett Grocery. Earl Corlett's wife, Linna Wells Corlett (1882-1964), had the distinction to be the second woman to vote in Illinois, in a village bond issue that just happened to be the very first election to take place in Illinois after the state granted women a limited franchise in June 1913. Earl Corlett was an election clerk.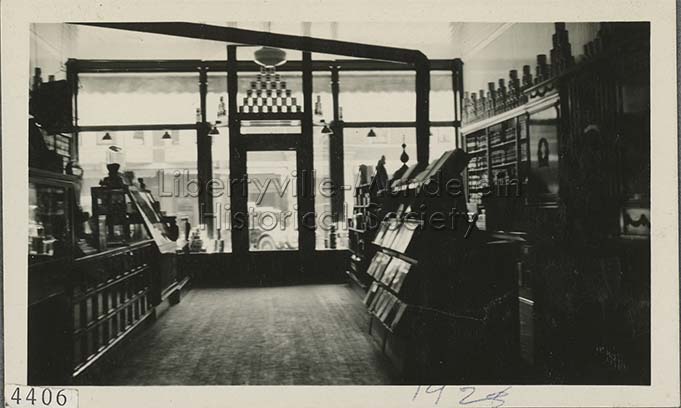 In 1927, Earl H. Corlett (1881-1946) began a four-year stint as the mayor of Libertyville. During that time, he retired from the grocery business. This building then briefly housed McLaughlin Co. men's furnishings, before serving through the early-to-mid-1930s as a pool hall (at first, official alcohol-free; then, in 1933, one of the town's early liquor licenses). The pool hall was run from 1930-33 by Glen A. Tennyson and then 1934-35 by Carl Seiler.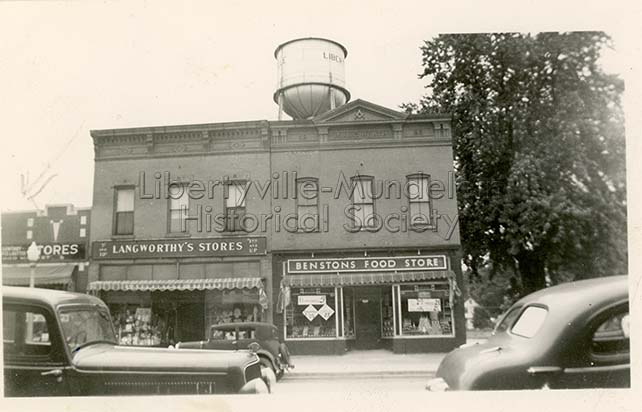 In 1936, the building reprised an earlier role as a grocery, Benston's Food Store. Murrell "Bud" Boyd has a rather colorful recollection of working here in the 1940s: "In 1942 I got a Friday afternoon and Saturday job with Leo at thirty-five cents an hour, which was the minimum wage at that time. There would be an occasional tip for carrying groceries to waiting cars. The store took phone orders and ran monthly bills for reliable customers, many of whom lived on St. Mary's Road, Oak Spring and the like. The store delivery truck was driven by Warren Wells. That was a plum job because of the tips."
"Leo Bentson was rather volatile and ran a tight ship. If you weren't stocking or waiting on a customer you grabbed a broom and swept the oiled board floor. My star with Leo began to dim when I accidentally shut him into the meat cooler, from which he emerged red-hot. On a subsequent Saturday night he told me to "throw some crackers in the window." He meant boxes to make a display. Not realizing that and being afraid to ask, I opened a box and sprinkled a few crackers in the window. The resulting explosion convinced me that it was time to seek other work. I never told my parents why I quit and never knew whether Leo had told them the story."
In 1946, the Wright-Way Grocery and Market took over the store, succeeded by Plummer's Food Mart by 1948. Norman K. Plummer operated his shop here through 1954.
A second story slipcover was added to the facade some time after 1956 and before the mid-1970s. Renovations made in 1993 removed the slipcover and added a new cornice bringing the facade closer to the original. The following year a two-story rear addition expanded the original structure.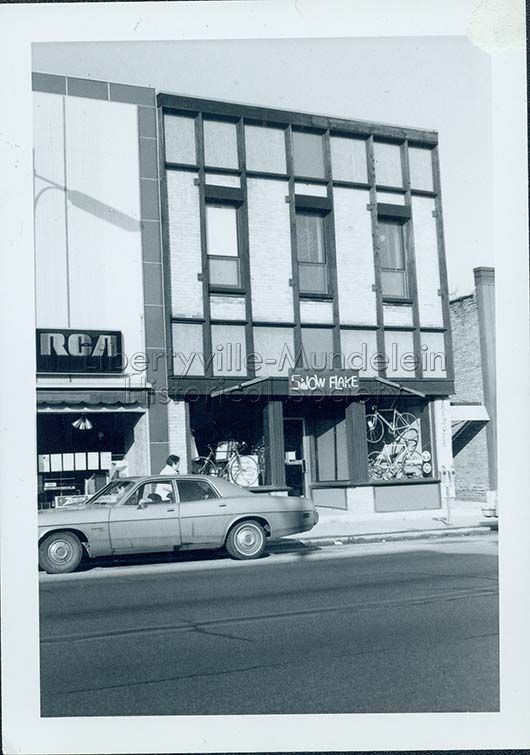 In the latter half of the 20th century, some of the many tenants have been the Montgomery Ward catalog store (1964), The Corner Store (a gift shop, 1971), Snow Flake outdoor supplies (c. 1975), Illinois Bell Phone Center (1979), Some Other Nuts Cafe (a nut, candy and novelty shop – 1990s), The Present Moment (a gift shop, 2010), and currently in 2020, Allure Designs in Beauty, a salon.