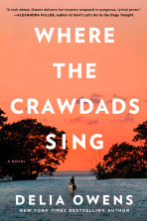 "Marsh is not swamp. Marsh is a space of light, where grass grows in water, and water flows into the sky."
These are the first lines of Where the Crawdads Sing by Delia Owens, one of the best books I've read this year. The marshes and swamps of coastal North Carolina are the beating heart of the story, both setting and character combined. They are the home of Kya, the protagonist, who survives alone among them from the age of ten. Abandoned by her parents and siblings in their run-down shack on the marsh, Kya gets by on pluck and instinct, hiding from Social Services and earning money by selling mussels and oysters to Jumpin', the kindly owner of Jumpin's Gas and Bait. As Kya grows into womanhood, she must come to terms with what it means to let others in, to love and learn to trust. Then, when a suspicious death occurs in the small nearby town, Kya becomes a suspect, and her world is upturned.
Where the Crawdads Sing is part coming-of-age story, part murder mystery. Owens's prose about Kya and the marshes radiates beauty, and short interspersed chapters about the murder investigation keep the book tautly paced and suspenseful. It also is a love letter to the North Carolina coast. Owens has won awards for her nature writing, which will come as no surprise after you read this book. Lyrical, moving, and evocative, this novel is hard to put down. I'll be recommending it to anyone who loves Barbara Kingsolver and also to our library book clubs.